It is essential to keep truck tires properly inflated so they can carry the load, wear evenly, maximize fuel mileage, and maintain their integrity. Chronic overdeflection (overinflation, underinflation, or a combination) is a common cause or contributor to tire failures.
During pre-trip inspections, the Federal Motor Carrier Safety Regulations (49 CFR  §396.13) requires the driver "be satisfied that the motor vehicle is in safe operating condition." This includes the truck's tires . As part of that pre-trip tire inspection, a driver is trained to look for low or flat tires. But there is no requirement that the driver check the air pressure with a gauge. In fact, while going through truck driving school before getting my CDL, we never once used an air pressure gauge during our pre-trip inspection lessons, daily routines, or exams.
It would be an onerous task to require a driver to check the air pressure of all eighteen tires on a typical tractor trailer before every trip.  As an alternative to a gauge, some drivers use a "tire thumper" (usually a rubber mallet or some kind of a bat) to check their tires. If a tire is inflated, the thumper would bounce right off. Striking a tire with little or no air would have no bounce back, but would respond with a flat thud. While a thumper can't determine if a tire is properly inflated, it can let you know if a tire is flat or near flat. [Click on image to enlarge, then click back arrow to return to this post.]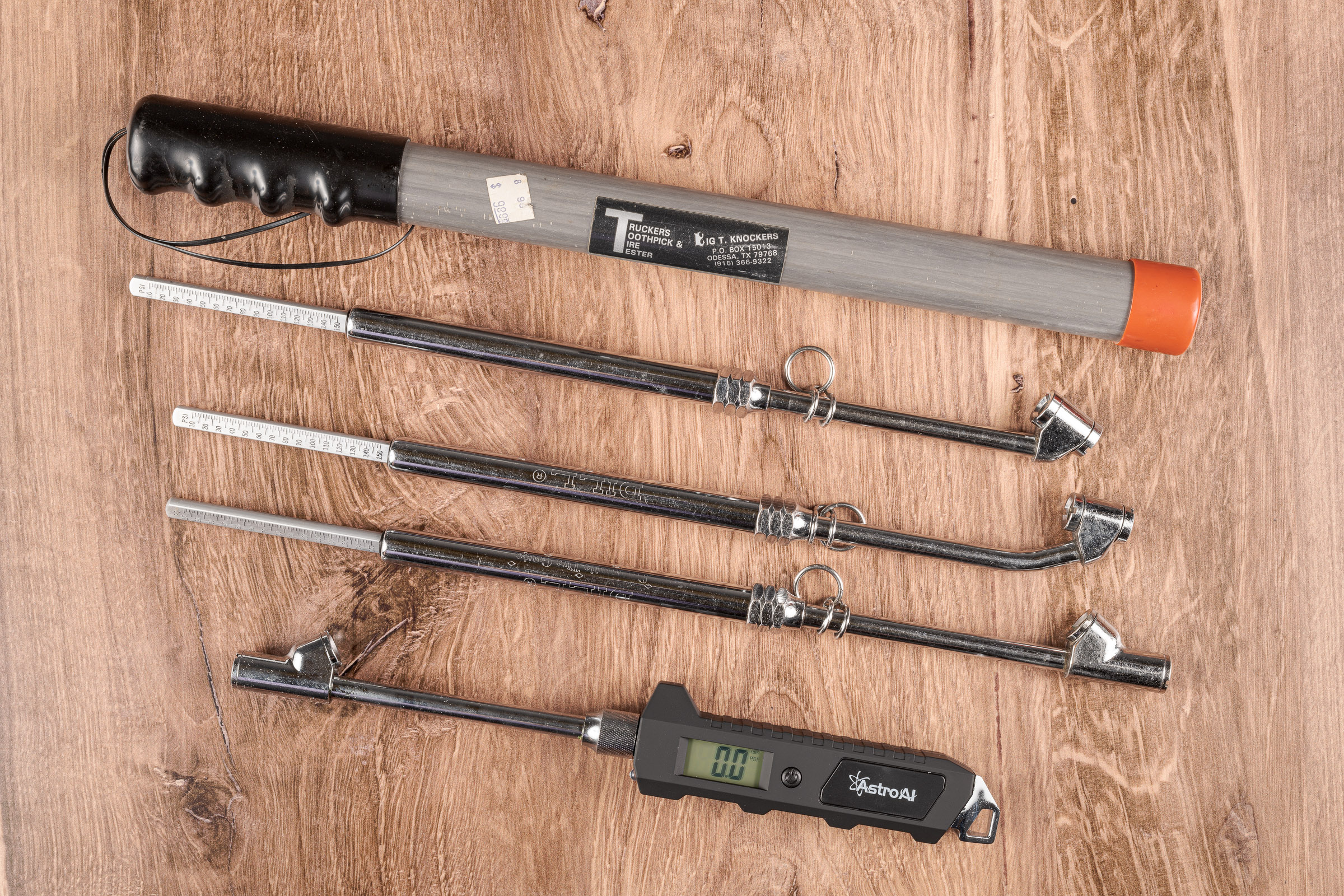 Back in 1998, I bought the Trucker's Toothpick & Tire Tester at the top of the photo at a truck stop just for fun. (Both the name of the product and the company are rather whimsical.) It is a weighted metal stick with a hand grip on one end and a protective cover on the other. Along with various wooden bats, it is typical of tire thumpers sold commercially. While their benefits are minimal, at least thumpers prevent a driver from starting off on a trip with a flat tire.
The three stick gauges in the middle of the photo look similar, but their dual heads are at different angles. One of them is bound to fit when the metal valve stems of either the inner or outer tire of a dual pair are bent and otherwise inaccessible. They prevent you from bleeding air out of the tire as you try to get the gauge head to seat on the valve.
Stick gauges seem tricky to read until you understand how their scale works. I'll describe that below.
The digital pressure gauge at the bottom is the easiest to read (and photograph, if you do that—I don't).
Here's how to read a truck tire stick gauge. Assume you've just checked the air pressure of a steer axle tire and got the reading below. [Click on image to enlarge, then click back arrow to return to this post.]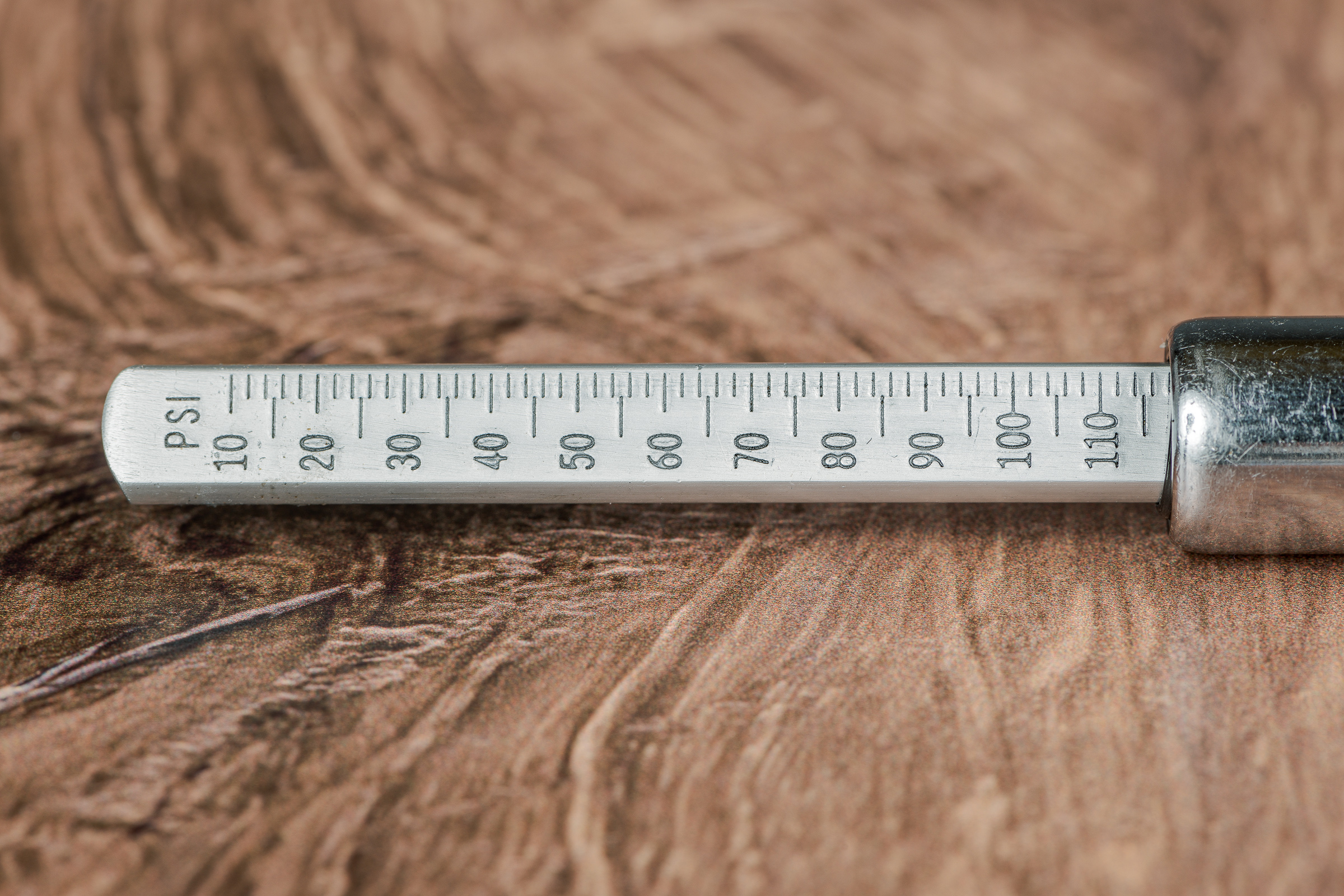 At first glance, the scale might not seem to make sense with the decimals between the longest hash marks. (Gauges typically start at 10 psi, not 0 psi; anything less than 10 psi is obviously flat.)
Zooming in might help make deciphering the scale more clear. (This photo has been rotated clockwise to be oriented as you would read the scale in use.) [Click on image to enlarge, then click back arrow to return to this post.]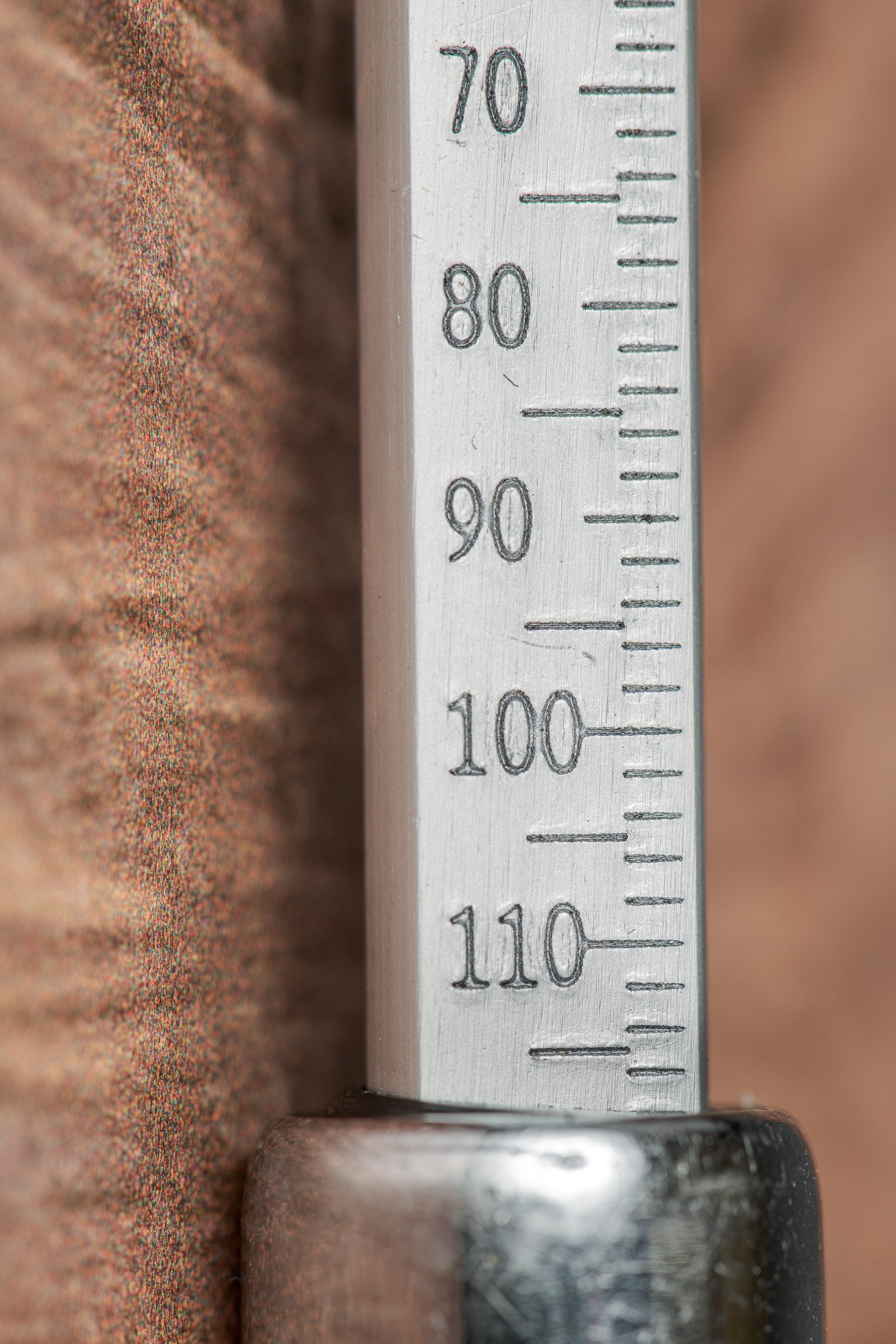 Let's start with the 100 psi mark. (Note that on this gauge, the 100 psi hash mark happens to intersect the second zero.) The next short hash mark down represents 102 psi. One shorter hash mark down is 104 psi. Just below that, the longer hash mark near the center of the scale represents 105 psi. The next short hash mark at the right edge below that is 106 psi. Below that, the short hash mark is 108 psi. Next is the longer hash mark for 110 psi. Using this information, you can see the inflation pressure reading above was 118 psi.
To summarize, all the hash marks along the right edge of the scale are in 2 psi increments. Half way between the decimals, the longer hash marks near the center of the scale are in 5 psi increments.
Anywhere along the scale, anytime the end of the barrel is halfway between two consecutive short hash marks, the inflation pressure is 1 psi greater than the short hash mark above it.
Takeaways:
-1- While truck tires must be properly inflated, the Federal Motor Carrier Safety Regulations do not require truck drivers to check tire inflation pressures with a gauge during their pre-trip inspections.
-2- Tire thumpers can indicate if a tire is flat or almost flat, but cannot determine the inflation pressure.
-3- Different angles of dual head inflation pressure gauges can help access bent valve stems.
-4- If using a stick gauge, make sure you accurately read the scale.