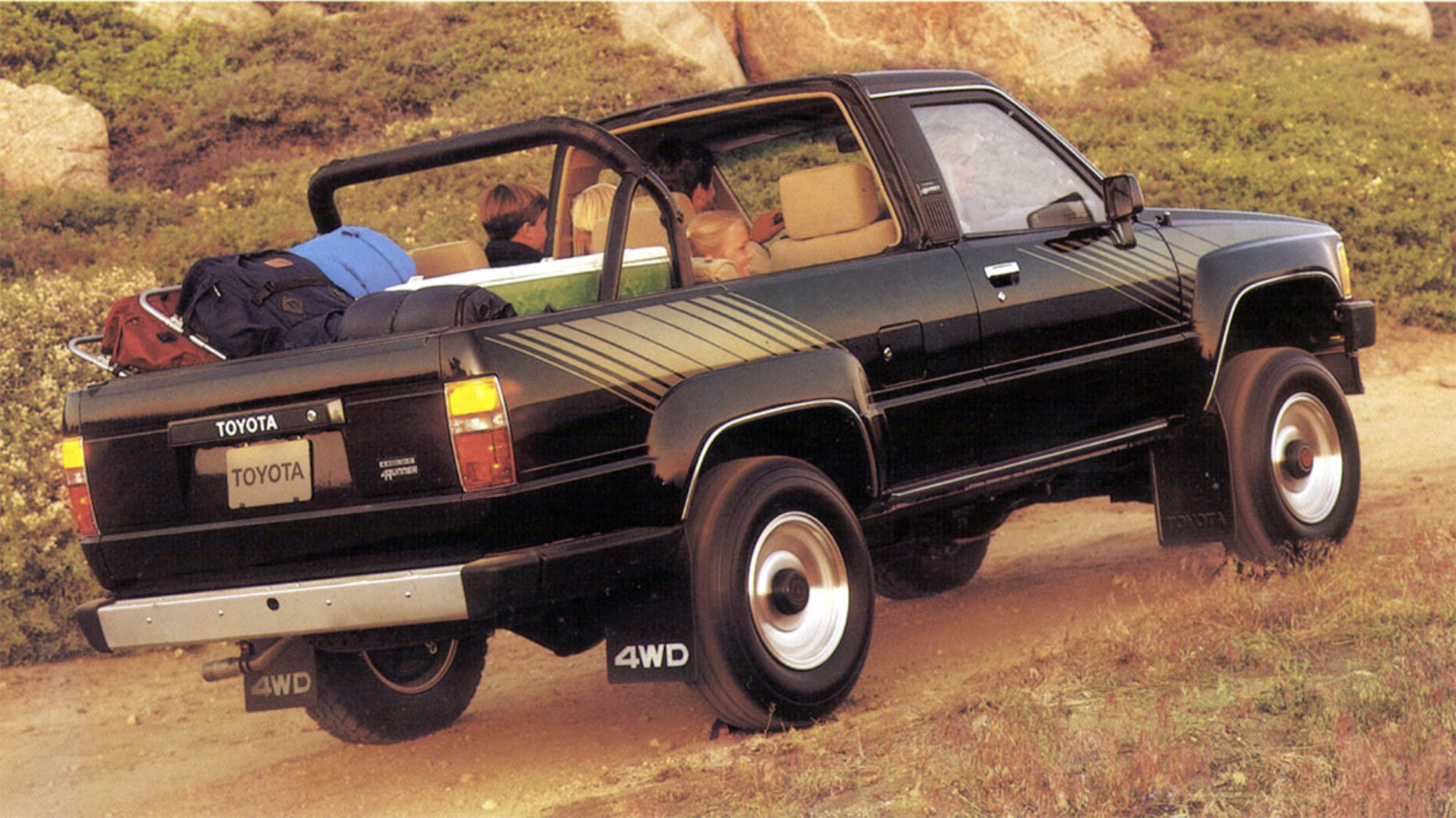 In 2016, I bought a Toyota 4Runner TRD Pro. Almost four years later, if I had it to do all over again, I'd buy the exact same one. You can't ask for anything more when buying a vehicle. It's great on and off the road, and is the perfect size inside and out for everyday use, my personal landscape photography trips, and for traveling for work. About the only thing I use my beloved F-150 for now is to haul tires and wheels between my warehouse and my Studio Lab in my home office.
When I was researching the history of the 4Runner, I came across this photo that was used in a print ad by Toyota for a first generation model in 1989. While it is a nice image, right away I noticed something was wrong.
If the 4Runner was moving with its tires rotating, its body could only have stayed sharp if the photographer panned the camera with the vehicle as the shutter was clicked. But then the foreground and background would have blurred as the camera moved along with the vehicle. If they were rotating fast enough, the tires could still have shown up as rotating blurs, but there would likely have been streaks behind them.
If the 4Runner was moving and the photographer used a high enough shutter speed, all motion—including rotating wheels—could have been frozen. Here, the 4Runner was not moving in relation to the foreground or background, yet the right side wheels and tires appear to be spinning. If the tires were spinning but the vehicle was not moving, the tires should have been kicking up dirt, which they are not.
More importantly, on closer inspection you can also see that neither left side tire is rotating.  It's obvious the vehicle was not moving when the photograph was made, but a radial blur filter was applied to the right side wheels and tires in post-processing.
Unlike advertising creatives, project testing engineers and litigation consultants must make only real photographs using proper camera settings.  Never attempt to submit modified images as actual photographs.
That being said, modified photographs can be quite useful for demonstrative exhibits for a trial or to illustrate behavior during testing conditions, but they must be presented as such. Any modifications should be kept as layers in Photoshop, and both the modified and original photos should be presented .